Ole Miss Rebels (39-23) vs. Arkansas Razorbacks (46-20)
College World Series Semifinal, Omaha, Neb.
TV: ESPN2, 3 p.m. Central
In Game: A trip to the CWS final series against Oklahoma
Today, we take a closer look at projected starting pitchers…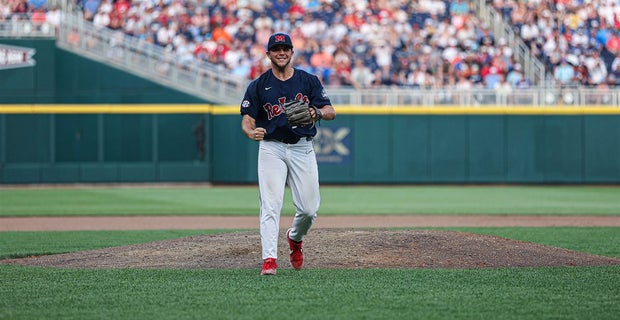 HEY MISS
Dylan DeLucia, Jr., RHP
Native city: PortOrange, Florida
How he got to Ole Miss: delucia phe played two seasons at Northwest Florida State College in Niceville, Florida and spent the fall of 2019 at College of Charleston before transferring to Ole Miss. He played high school baseball at New Smyrna Beach, where he won four cards. He was ranked the 70th overall player in the state of Florida, 21st among right-handed pitchers, by Perfect Game. He earned all-state first-team honors in 2019 and was named the 2016-17 Max Preps Player of the Year. He was a three-time all-around pick and posted a career record of 33-9 with 329 strikeouts in 251 innings.
This season: DeLucia emerged as the Rebels' front-row starter midway through the season. He owns a 7-2 record with one save and a 4.07 earned run average. He has 20 appearances with 11 starts and one complete game. He has allowed 83 hits in 86 1/3 innings while walking 26 and striking out 98.
Last time out: DeLucia started for the Rebels in their first game of the College World Series on Sunday when he was the winning pitcher in a 5-1 Ole Miss decision. He pitched 7 2/3 innings, allowing one earned run on four hits. He displayed masterful control, striking out 10 and not walking. He threw 114 pitches.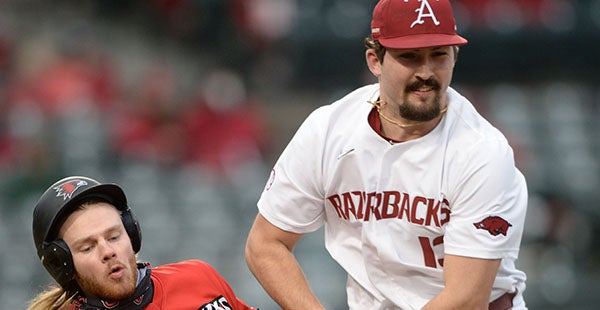 ARKANSAS
Conner Noland, Sr., RHP
Native city: Greenwood, Ark.
How did you get to Arkansas: Noland signed as a two-sport player with Arkansas in the class of 2018. He was a four-star quarterback in high school as well as a top baseball prospect. In 2018, Perfect Game named him a preseason All-American and he was among the top 500 of all players in the nation.
This season: Noland owns a record of 8-5 and has a 3.75 earned run average. He has made 18 starts in 19 appearances. He has given up 102 hits in 108 innings pitched, struck out 106 and walked 34. Only 22 of his 102 hits allowed were for multiple bases (14 doubles, one triple, seven home runs).
Last time out: Noland pitched 7.2 innings in the Razorbacks' opening 17-2 win over Stanford on the CWS. He allowed two runs on six hits, walked one and struck out one. He threw 79 pitches.