"Americana Railroad," a compilation album of train songs featuring the likes of John Fogerty and Dave Alvin, is out today, a perfect travel companion for motorists in the city that originated the term "getting railed."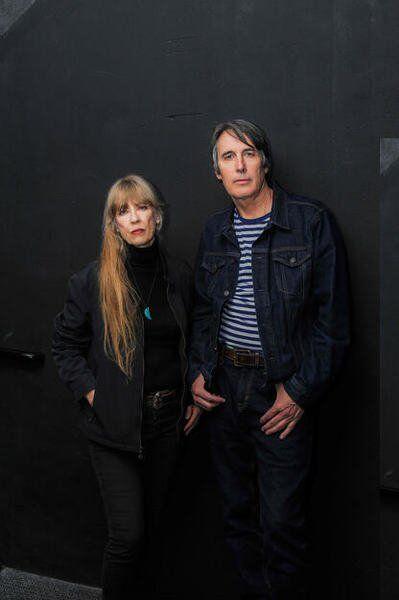 The husband-and-wife production team of Saul Davis and Carla Olson have been working on this project exploring the roots of rock for a decade, which Davis acknowledged was "a long time from conception to reality."
"It's not the easiest thing to sell," Olson added. A singer who has worked with Bob Dylan, Eric Clapton, Don Henley, Ry Cooder, Percy Sledge and other luminaries, she performs on three of the tracks.
Olson grew up in Austin, inspiring a lifelong love of trains. "There was a train track right next to the school; we left class and ran to catch the passing trains," she recalled. "We greeted the driver and before we put pennies on the track. We would compare our crushed pennies."
Olson had a friend whose father would get on trains and disappear for months. He went to Europe at 17 and toured the continent thanks to a Eurail pass. "We'd get on a train and see what the end of the line was," he said.
Austin only had freight trains, not passenger trains, so Olson was thrilled when she moved to Los Angeles and was able to travel by train.
Olson said that trains can serve as resonant metaphors for everything from escape to death.
"It's a dreamer's album in a way," he said. "The trains represent a measure of the things you want to do that you never act on. You see trains and dream of going somewhere you could never go. Traveling by train was the way to escape from what worried you. A dreamer's way out of town.
Olson talked about a couple of the biggest names on the album. Fogerty covers "City of New Orleans," the Steve Goodwin song made famous by Arlo Guthrie (whose father, Woody, is evoked in a couple of numbers on the album). "She was recording it for her own album and we asked if we could use it," she said, noting that she and her husband added Mickey Rafael's harmonica to her demo. "She was great with it and loved what we did with it."
Dave Alvin of the roots band The Blasters would put together bands to travel on trains and when the train stopped with a whistle, they would get on the platform and sing for the people. He wrote a song, "Southwest Chief", about the experience.
"He wrote it down on his way to the studio on a piece of notebook paper, brought it over, taped it to the microphone stand and said, 'I've never sung this one before,'" Olson recalled with a laugh.
Olson didn't get Jimmy Buffett or Jerry Jeff Walker for the album, but he did share a great story about the couple: Walker was attacked on a train ride and the conductor set out to dump him. Buffett pleaded with the driver, saying, "Don't you know what he has written?"
"The conductor responded," Olson said, "'I don't care if he wrote the Bible, he gets off my train.'"
David Kronke can be reached at 812-231-4232 or david.kronke@tribstar.com.