TableScapes organizer Sandy Mutchler admits that this year's event was a "rush job," but that hardly shows on the various designer tables. The 19th annual event is the main fundraiser for Arts Illiana.
One table, called "Oceans of Possibilities," features a centerpiece with an octopus perched on a small shelf next to a pirate's dagger. The Vigo County Historic Center "Another Space in Time" includes a small TV with "Twilight Zone" host Rod Serling gracing the screen.
One inspired by Eric Carle's "Very Hungry Caterpillar" includes butterfly-folded napkins on plates. There's even a tribute to Dolly Parton.
"Some are over the top, wild and eccentric," said Susan Beeson, Arts Illiana board secretary.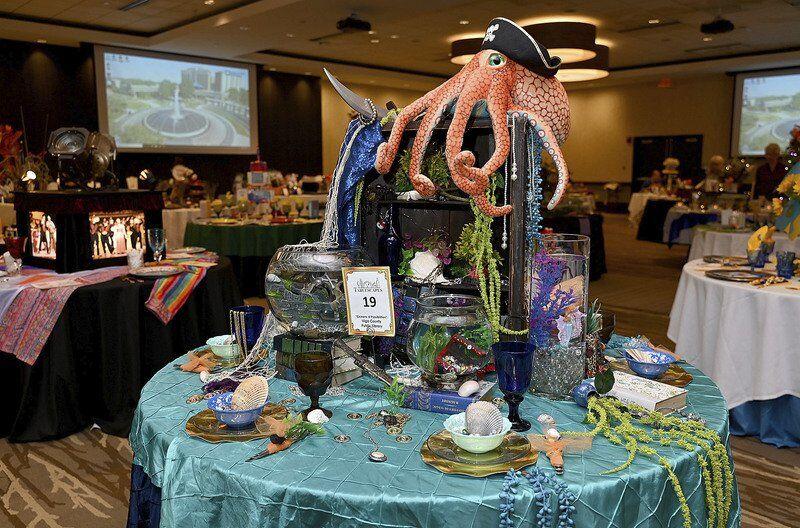 TableScapes 2022, which opens Friday at Indiana State University's Sycamore Banquet Center in the student union, features 21 tables designed by individuals, groups and businesses.
Participants include Terre Haute Pride Center, Community Theatre, Swope Museum, Maggie & Moe's, Tri Kappa, Terre Foods Cooperative Market, and Mothering as a Career Club.
"The tables are fantastically designed," Mutchler said. "Some are from organizations that like to promote themselves, and a lot of them are from people who just love design. Some designers, this is their first year, some have been doing it for 18 years."
For Jennifer Buttrey, it is the tenth year of the last dozen in which she has participated. The first time, she was contributing to the table at Maggie & Moe's Poplar Flower Shop. "When I walked in and saw all the tables, I knew this was something I wanted to do," she recalled.
His contribution this year is "Purple Passion". "Usually when I pick my subject, I pick an art form that I want to try that I've never tried before," she explained. "I had been looking at a lot of wire trees and purple is my favorite color so I just went from there." The tree in her centerpiece contains 1,670 feet of wire.
"I hand-made all the mushrooms, which was fun, I could have made a million of them," Buttrey added. A gnome adds to the forest theme of his table. Overall, his effort took 12 hours to complete.
"Purple Passion" is "a little simpler than my other TableScapes tables," he said. "Those were full."
His favorite table featured a "Game of Thrones" theme. "I created a giant dragon head with wings that rang across the table," she recalled. "Each chair was each house [of the show's warring families]. It was fun."
The evaluation was scheduled for Friday night, when TableScapes hosted a cocktail party. The awards that will be distributed are the People's Choice Award, Judge's Choice Award (along with one runner-up), Best Centerpiece, Best New Designer, and Best Theme. A new award for best visual storytelling was added this year.
Another facet of Tablescapes is an online auction offering more than 80 objects, artwork, and gift packages at https://www.betterunite.com/tablescapes2022/auction. A Tribune-Star subscription is part of the "Meandering the Meadows" gift package, put together by Christine Niemeyer, owner of gift boutique Lili Pad.
TableScapes will continue on Saturday from 10 am to 5 pm at the ISU Sycamore Banquet Center, followed by dinner from 5:30 to 8:30 pm Tickets are $5 for TableScapes and $75 for dinner.
David Kronke can be reached at 812-231-4232 or david.kronke@tribstar.com.